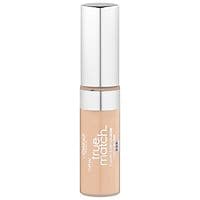 The first picture you see is Loreal True Match Concealer. The second picture you see is MAC Studio Finish Concealer.
LOREAL-
PROS
-Its cheap only $9
-Its available in so many places, anywhere they sell drugstore makeup.
-There are tons of different shades, so you can find the right one.
-It lasts quite a long time, but not as long as MAC Studio Finish.
-It comes with an applicator unlike Studio Finish
-Its small and portable
-It's super blendable and it doesnt look fake
-GREAT for undereyes
CONS
-It doesnt last ALL day
-Isnt as good on acne and blemishes
Studio Finish
PROS
-Its really creamy
-It covers acne really well
-It covers scars really well
-It stays on longer than LOREAL
-Small, portable container
-Back To MACable
-Has a TON of product in it
CONS
-Isnt that great for undereyes
-Can look a bit cakey if you put too much on
-More expensive than Loreal
So basically:
if you have acne and you are looking for a higher end concealer-go with the MAC
if you dont have that much acne and you want a cheaper concealer mainly for discoloration and under eye circles-go with the loreal.
requested by: thespianxx